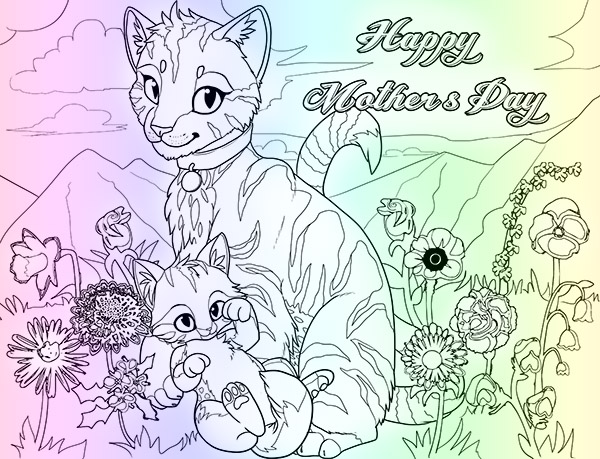 Mother's Day weekend approaches! Sunday, May 13th will be the time to celebrate all the amazing mothers in the world, be they skinned, furred, scaled, or feathered!
Haven't snagged a gift yet for your Furcadian mom or mom friend? Hop on over to Digo Market  where you will find snugs, roses, even fancy FOR LIFE specitags that they can proudly show off to their friends!
Better yet, would you like the chance to win some amazing prizes for mom? You can! Just take part in our Mother's Day coloring contest featuring this adorably sweet Momma Catten and Catling coloring page!
Contest Rules
Format: Traditional or Digital
How to Enter: We're offering two ways to enter, but one will snag you some extra goodies!
Email your entry to community@furcadia.com with your Furcadia name.
Or
Post your completed coloring page to Facebook, Twitter, Instagram, DeviantART or Tumblr. Tag Furcadia in your post and send an email with a copy of your entry, the social media link, and your Furcadia name to community@furcadia.com -- this is to ensure we are able to see your entry!
**All entries posted to social media automatically receive two purple roses and a box of bonbons to give out!
Deadline: Monday, May 14th at 12pm FST
Prizes:
Our Mother's Day basket is stuffed full with piles of snugs, sweet-smelling bouquets, premade FOR LIFE specitags, and even an amazing Mother's Day bundle featuring a Catten and Catling both FOR LIFE, with an adorable specitag FOR LIFE to match!
Note:
Any entries not meeting requirements will be disqualified and none are guaranteed a prize.
Upon submission, you grant Dragon's Eye Productions (DEP) permission to post your work and share it with the community. DEP may post, edit, and distribute creative contributions made through contests freely to players and for promotion of Furcadia.